The Omiebox Lunchbox - Features and Benefits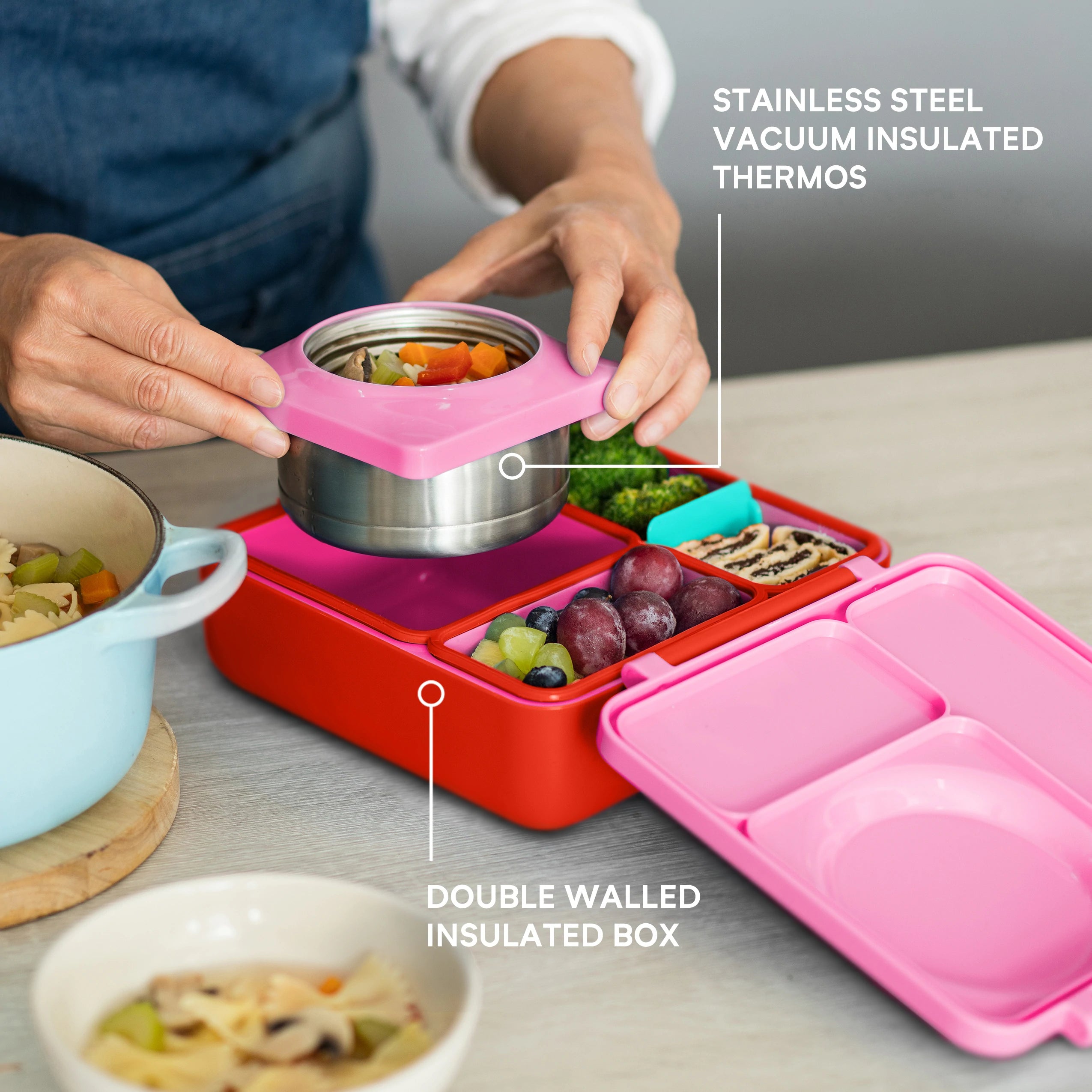 Are you a parent in New Zealand looking for the perfect lunchbox for your child's school or kindergarten? Look no further than the OmieBox lunchbox, now available at The Lunchbox Collection!
One of the standout features of the OmieBox lunchbox is its built-in thermos. This means you can easily pack warm, comforting meals for your child, such as soup or pasta. The thermos compartment can keep food hot for up to four hours, ensuring your child can enjoy a warm meal even in the middle of winter. And because the OmieBox lunchbox is made from high-quality, food-grade materials, you can rest easy knowing your child's lunch is safe and healthy.
The OmieBox lunchbox is also incredibly versatile, with four compartments that can accommodate a variety of foods. The sandwich compartment is perfect for packing a sandwich or wrap, while the two side compartments can hold fruits, vegetables, or other snacks. And with the thermos compartment, you have even more options for packing a balanced, nutritious meal for your child.
But the OmieBox lunchbox isn't just functional – it's also stylish and fun! Available in a variety of colors and designs, you can choose the perfect lunchbox to match your child's personality and interests. And with its durable construction and removable compartments, the OmieBox lunchbox is easy to clean and can withstand the wear and tear of daily use.
At The Lunchbox Collection, we understand how important it is to find the right lunchbox for your child's needs. That's why we're proud to offer the OmieBox lunchbox as part of our collection. With its innovative design, high-quality materials, and fun colors and designs, the OmieBox lunchbox is the perfect choice for parents looking for a reliable and practical lunchbox for their child's school or kindergarten.
OmieBox offers a range of accessories that can enhance your child's lunchtime experience. One of the most popular accessories is the OmieBox utensil set, which includes a fork and spoon in a soft silicone pod that attaches to the  Omiebox. The utensil set is made from durable, high-quality materials and is easy to clean, making it a great addition to any lunchbox. OmieBox also offers a leak-proof divider that can be placed inside the lunchbox to create additional compartments, allowing you to pack even more food for your child. Omiebox also offers easy to use leakproof containers (Omiedip) that fit neatly inside the Bento box. Overall, OmieBox accessories are designed to make lunchtime easier, more convenient, and more enjoyable for both parents and children.
In conclusion, if you're a parent in New Zealand or anywhere else in the world looking for a lunchbox that can keep your child's food warm, while also being versatile and fun, look no further than the OmieBox lunchbox. Available now at The Lunchbox Collection, this lunchbox is the perfect choice for parents who want to ensure their child is getting a healthy, balanced meal at school or kindergarten. So why wait? Order your child's OmieBox lunchbox today!
 Click here for some great ideas for your Omiebox Thermos.
No matter what product you choose, it's crucial that you buy from a reputable seller that offers quality products that are built to be safe and fun. At The Lunchbox Collection, we aim to be exactly that kind of seller. All of our products are designed to be delightful, easy to use and very safe.
That's not all we have, either! Our store contains plenty of interesting products that can improve any meal. Please mail us at hello@thelunchboxcollection.co.nz if you have any thoughts or questions.
The Lunchbox Collection can supply you with everything you need to make lunchtime perfect.
---