Make Healthy Eating Fun and Easy with Yumbox in NZ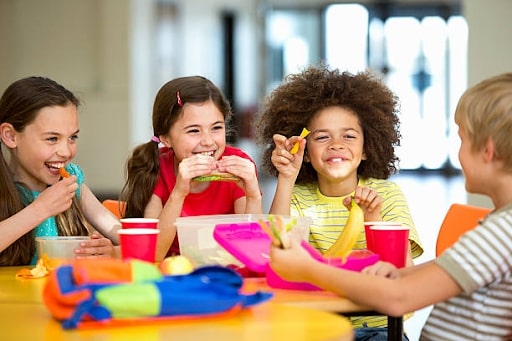 We all know that encouraging your kids to develop healthy eating habits is necessary. After all, our choice of diet strongly affects our overall health, so feeding your kids smart, nutritious meals is a must. Sending your kids off to school with an NZ Yumbox full of healthy and delicious food can keep them happy and healthy.
But any parent knows that getting children to finish their veggies or try new healthy snacks isn't always the simplest job in the world. Some children can be rather picky eaters, and you never want your kids to come home with full lunch boxes because they weren't interested in what you packed them.
How do you encourage your NZ kids to eat healthy lunches? To start, you can pack their food into an enticing Yumbox lunch box.
Choose Yumbox Lunch Boxes To Enrich Lunchtime
Picking the best lunch box for your child is like picking the best packaging for a birthday present. Bright colours and fun pictures can get your kids excited for their food, even before they know what's inside!
Yumbox has plenty of gorgeous NZ products that are strong, well-designed and visually amazing! They can make healthy eating fun and easy because:
They Come In So Many Looks And Colours. Every single kid is different, and every single kid is special. What does your child love? You can easily find a Yumbox lunch box with colours or pictures that appeal to your unique child.
We all have a favourite colour or look, and children especially love to get things in their favourite colour! Yumbox takes this a step further by having lunch boxes with cute and cool art displayed on their surfaces. You can find adorable jungle animals, awesome sharks, colourful designs and more.
You can have fun by showing your child Yumbox's online NZ selection and letting them choose the lunch box they love the most.
They're Perfect For Younger And Older Children. These delightful lunch boxes are perfectly sized for young children. But this doesn't mean you have to toss your Yumbox lunch boxes out once your children grow out of the recommended age range. You can use extra containers to pack additional snacks and treats to accompany your older child's lunch.
This way, your child can still get enough nutrition and energy from their lunch. Consider looking up tasty, healthy meal ideas and then portioning out your children's meals in smart ways.
They're Leakproof. These NZ Yumbox lunch boxes are designed to be leakproof. This makes them perfect for any age because no one wants to open their bag only to discover their lunch has spilled everywhere!
This is also an excellent quality for picky eaters. Some picky eaters refuse to eat if two different types of food get mixed together, but these lunch boxes have separate sections to ensure that all of your perfectly-prepared food stays where it should stay.
They Have Ideal Portion Sizes. The compartments of Yumbox lunch boxes are designed to be good sizes to reduce food waste. Your little ones should have no trouble finishing their food, and if you're feeding older children or adults, you can add extra food via additional containers. It's very important for your children to eat enough healthy food to grow up healthy and strong.
These compartments also make it easier to mix things up every day. You can change what kind of meals you pack, the snacks you put in, what kind of cut veggies or fruits you add and so on. Keeping your kids interested in their food is very important when getting them to eat it. You can get your children to try new things by keeping things exciting and different every day.
Who knows, they might discover their new favourite healthy snack.
They're Easy To Clean. What comes after a meal? Clean up time, of course. Your child will be using their NZ Yumbox lunch box every school day, which means that their lunch box will need to be cleaned every day.
Improperly cleaning a lunch box can lead to dangerous bacteria growth. You'll be happy to learn that Yumbox lunch boxes are easy to clean, so getting them ready for tomorrow is no trouble.
They're dishwasher safe (top rack only), so it's easy to pop it in and let the dishwasher do the work. We also recommend hand washing the outer shell, or completely removing it from the dishwasher before the dry cycle, to preserve the seal.
These wonderful lunch boxes are also robust. Cheaper, lower-quality containers tend to crack or chip easily, which compromises your child's lunch.
Make Every Meal Special With The Lunchbox Collection
At The Lunchbox Collection, we aim to help make lunchtime healthier and more fun. Our products aren't just charming and delightful; they're also high-quality! Trust us to provide you with NZ lunch boxes and more from great brands like Yumbox.
Come and see our full range of incredible lunchtime products. We've got everything from long-lasting lunch boxes to adorable food picks that come in countless looks and colours.
Would you like some help? Email us at hello@thelunchboxcollection.co.nz; we're happy to assist you.
The Lunchbox Collection can make healthy eating fun and easy.
---