Invest in a Durable and Sustainable Option with Stainless Steel Lunch Boxes in NZ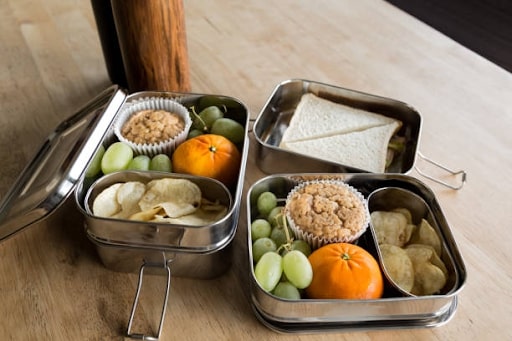 Lunchtime is a highlight of any kid's day. It's a great time to sit down, have some tasty food and relax. So, you want your children's lunchtime to be spectacular! You can do so by packing healthy meals and using amazing NZ stainless steel lunch boxes.
But there are so many different kinds of lunch boxes out there made of all types of different materials; why should you choose stainless steel? What makes these lunch boxes so special?
Why Choose Stainless Steel Lunch Boxes?
Every parent wants their children's lunchboxes to be durable, easy-to-use and long-lasting, and stainless steel lunch boxes check all of those boxes! Just take a look at the PlanetBox LAUNCH stainless steel lunchbox we have. These containers are designed to be useful and practical.
So, let's break down what makes these lunch boxes perfect for anyone in NZ or the world:
They're Durable! One of the first things you'll notice when holding a stainless steel container is its robustness. In addition to looking sleek and stylish, stainless steel is a very tough material that is extremely resistant to damage. This type of steel is known for being strong and resistant to corrosion and oxidation, which is why it's commonly used to create useful products like food containers.
We recommend looking for NZ stainless steel lunch boxes that are designed to be leak-resistant to prevent messy spills.
Basically, it's very difficult to get these boxes to break or crack, making them perfect for any member of your family. Their strength means you won't have to buy a replacement anytime soon.
If your child's lunch box breaks, their lunch could go everywhere! But, even if it just gets cracked, those cracks can harbour germs or bits of food that compromise your family's health. So, an NZ stainless steel lunch box is a smart choice for anyone.
They're Sustainable! Stainless steel is very sustainable and eco-friendly. This steel can basically be recycled indefinitely and can last for many years. Although steel isn't biodegradable, it can simply be reused and repurposed, eliminating the need to mine for more raw materials to make more of it.
Having to mine for raw materials and create brand-new products can cause a lot of pollution. On the other hand, recycling materials to turn them into something new has far less of an environmental impact.
Not that you'll need to recycle your NZ stainless steel lunch boxes anytime soon, anyway! Your lunch box will be able to last for many years if you use it correctly and purchase it from a quality company.
They're Great For Any Age! These sturdy lunch boxes aren't just for kids; they're great for anyone. Their durability and sustainability make them a smart and practical choice for anyone who loves sitting down to a tasty, healthy lunch.
Older children and adults can appreciate how strong and functional their steel lunch boxes are, and they can enjoy their sleek and practical designs.
Younger children will love how convenient and customisable PlanetBox stainless steel lunch boxes are. That's right; they're customisable! You can purchase fun magnet packs for your children's PlanetBox lunch boxes to make lunchtime more fun and whimsical. You can even purchase several packs of magnets so you can mix and match them on your kid's NZ stainless steel lunch boxes, making every day a new surprise.
Every parent should also know that stainless steel is a non-toxic material. Food-grade steel is safe to use around food, and it doesn't contain any harmful chemicals or BPAs that could get into food.
Although, you should also know that there are lunch boxes made of other materials, like silicon and plastic, that are also chemical and BPA-free. For example, have a look at our Yumbox boxes. Regardless of what type of food container you buy, make sure it's safe to use with food!
Chemicals aren't the only thing that could harm your family, though - you also need to worry about nasty bacteria and germs. These pests can grow on many different types of materials, even safe ones.
Luckily, you can easily take care of these nasties because stainless steel is extremely easy to clean. It's already difficult for germs and bacteria to grow on stainless steel, but you can be extra sure that all of your containers are safe by cleaning them as you should.
How You Can Get Stunning And Sturdy Steel Lunch Boxes In New Zealand!
Getting shiny new stainless steel lunch boxes in NZ is really easy; just check out our online selection at The Lunchbox Collection! Here, you can find various steel containers that are perfect for lunchtime.
We also encourage you to explore the rest of our site if you want to make lunchtime more fun. We have plenty of products that do just that! From creative sandwich cutters to useful food picks, you can find anything you need to make yummy lunches even better.
For more information, you can easily email us at hello@thelunchboxcollection.co.nz.
Add magic and whimsy to your family's lives with NZ stainless steel lunch boxes and other amazing goods from The Lunchbox Collection!
---