50 Awesome Ideas for your Insulated Food Thermos for kids school lunches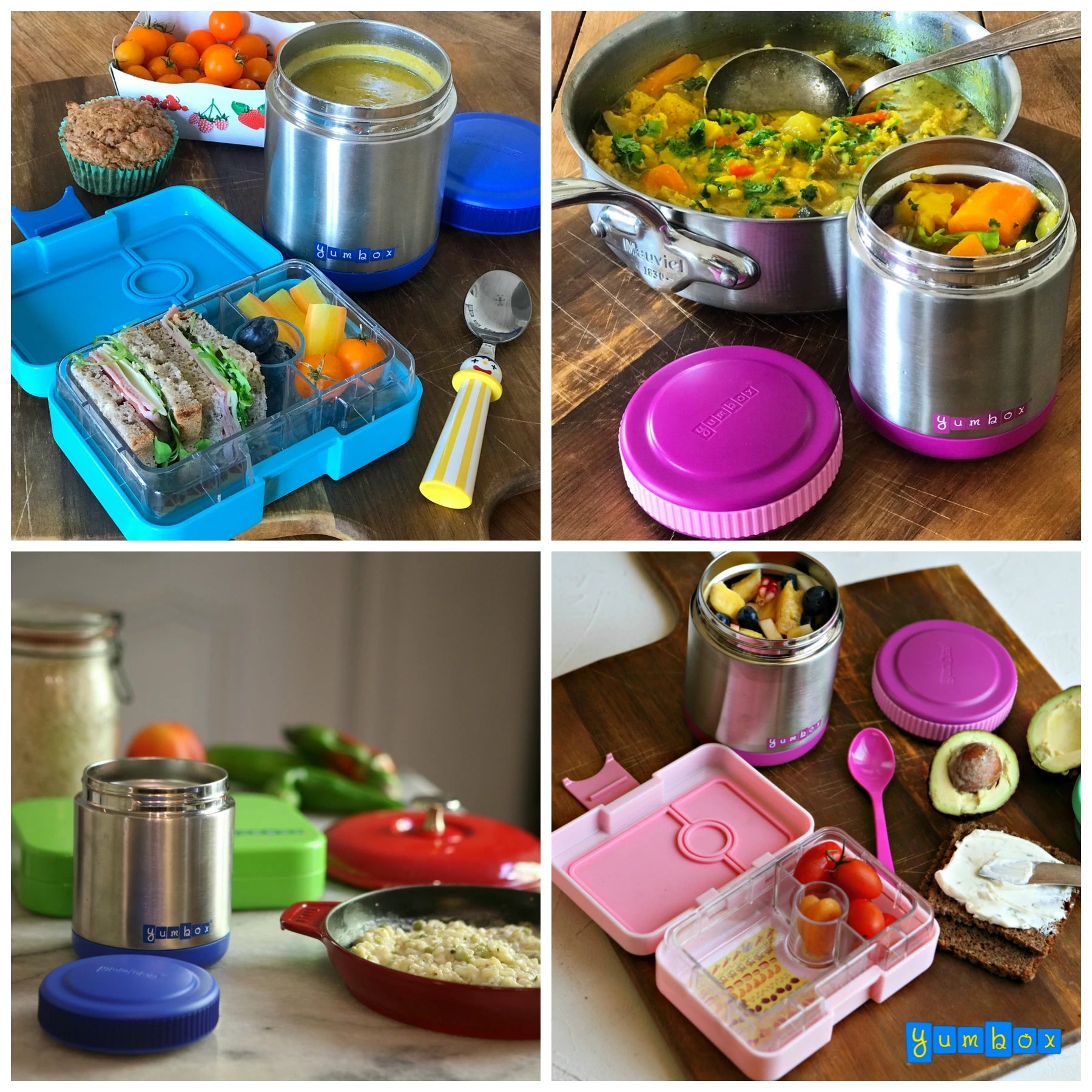 There is nothing better than a steaming hot lunch on a cold day - for kids and adults alike! An insulated food thermos jar like the Yumbox Zuppa or even a insulated Lunchbox like an Omiebox are perfect for those cold wintery NZ days at school, kindy and even work! Insulated food jars work to keep hot food nice and toasty. But don't forget they can also be used in to keep cold food chilled for those hot summer days! Think crispy chicken salads and juicy watermelon! Whichever way you choose they make a wonderful addition to any childs lunch.
Check our our range of Thermal Lunchboxes and Insulated Food Thermos Jars here
Below are over 50 ideas for hot and cold foods 
Hot Ideas
Scrambled eggs and bacon
Sautéed beans - Pack basic beans with chopped veg and tortilla chips (or soft shells) on the side
Corn on the cob –
Dumplings - Don't forget a little container of soy sauce.
Rice - Rice + whatever frozen veg you have + dash of soy sauce = lunch is done.
Toasted Sandwich bites
Pasta-Leftover is obviously easiest, but if you have the time in the morning, boil some noodles, mix with butter, Parmesan and a handful of frozen vege- done!
Warm Porridge
Hot Chocolate – just make sure you warn them to open it carefully!
Macaroni Cheese/Lasagne/Cabonara ect
Pulled chicken or pork and some salad or coleslaw. Pack with a squishy bun on the side
Quesadillas-A great way to add a lot of veggies between layers of cheese.
Pack some salsa and sour cream on the side!
Chicken tenders
Quinoa
Ramen noodle soup
Roast Vegetables
Soup
Left over casseroles and stews
Vegetable fritters
Warm wrap
Pancakes and waffles
Pizza
Cheerio sausages
Homemade chicken nuggets
Mini Satay Sticks
Rice and butter chicken or chicken satay (or any of your fav curries!)
Warm hard boiled eggs with buttered soldiers
Chicken Crepes – or any warm filling really!  Just roll them up and pop them in the thermos
Mini Bacon and egg Pie
Warm scones
Lentils
Baked potato
Sausages
Quiche
 Cold Ideas
Smoothie bowl
Yoghurt
Chicken Salad
Cold Pasta Salad
Egg salad
Quinoa salad
Fruit Salad
Watermelon
Yoghurt with Fruit
Freshly made sushi
Homemade custard
Fresh salad with dressing
Pasta or Rice Salad with chopped fresh veggies
Hummus and Vegetable Sticks
Cold shredded meats like chicken and some sliced cheese and lettuce – pack a squishy bun on the side!
Overnight Oats/Bircher muesli
Yoghurt Parfaits
Chia Pudding
Antipasto sticks (kebabs) – Cheese cubes, olives, gherkin, salami
Cold chicken nibbles
Browse Our store to find plenty of interesting products that can improve any meal.
Please mail us at hello@thelunchboxcollection.co.nz if you have any thoughts or questions.
The Lunchbox Collection can supply you with everything you need to make lunchtime fun!
---